December 8, 2015
Our September showing of The Hunley was meet with such satisfaction that we decided to do it again.  Our good friend Dr. Rich Siciliano will be showing the following movie, prior to our regularly scheduled meeting at 7:00pm.  Please note the special start time of 4:47pm, in order to allow a full showing and to accommodate any special set up needs of our guest speaker.  Get your popcorn ready!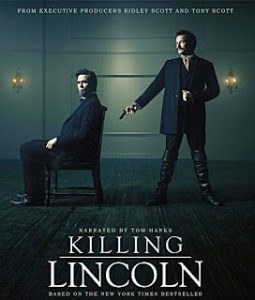 You're Invited on Tuesday, December 8, 2015, starting at 4:47 p.m., Room BI-113, right before our regular meeting of the Southern Maryland Civil War Round Table. Start the evening with a free screening of Killing Lincoln, the 2013 documentary based on the bestselling book by Bill O'Reilly. The movie looks at Lincoln's presidency from the eyes of bodyguard Ward Hill Lamon. The National Geographic documentary drama looks at the events surrounding the assassination of Lincoln, and the manhunt for his killer, acclaimed actor John Wilkes Booth. It is produced by O'Reilly, along with siblings Tony and Ridley Scott, and directed by Adrian Moat. Starring: Billy Campbell, Jesse Johnson, Geraldine Hughes, and narrated by Tom Hanks.
Running Time: about two hours (we will skip the commercials).
A few moments of poetic license are taken, so its historical accuracy may be criticized. However, the film is a successful portrayal of the events surrounding Lincoln's last days, especially the assassination sequence at Ford's Theater. Keep in mind, however, this is a docudrama and not documentary.