November 9, 2021
The Southern Maryland Civil War Round Table is pleased to announce that its next meeting will be held Tuesday, November 9, 2021 at 7:00pm at The Maryland Veterans Museum, 11000 Crain Highway North, Newburg, MD 20664.

Due to Charles County Board of County Commissioner updated mandates, masks will be required for all in attendance.  Seating will be limited to 4 people per table.  Thank you for your support and understanding.
Guest Speaker:  Gary Dyson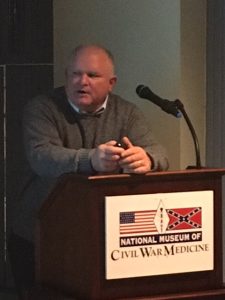 We welcome our friend Gary Dyson back to Southern Maryland this evening, as he shares with us his latest offering, "Confederate Row:  The Confederate Dead Buried at Mount Olivet Cemetery in Frederick, Maryland 1862-1907"
Confederate Row tells the stories of the Confederate dead buried at Mount Olivet Cemetery in Frederick from 1862-1907. These soldiers entered Maryland in not the best physical condition, but fought at South Mountain, Sharpsburg, Gettysburg, Cedar Creek, and other nearby battlefields and later died in Frederick from their wounds. Their genealogy, battle history, and extent of their wounds where possible are described. The presentation will also give the history of the Row since the war.  As a sequel, "beyond the Bowie List" is in the works. This will describe the lives of all the known Confederate dead buried in Maryland that presumably were re-interred at the Washington Confederate from the battlefields of South Mountain, Sharpsburg, the retreat from Gettysburg, and some from Early's Maryland invasion of 1864 that weren't buried in Frederick.
Gary L. Dyson is a retired Environmental Specialist from the city of Gaithersburg, MD and a Marine Corps veteran. He is a lifelong history enthusiast and has spent countless hours reading, researching and exploring battlefields – from the French and Indian War to World War II.  Gary owns Dyson Genealogy and Historical Research and is the author of  The  Ambush of the Isaac P. Smith and  A Civil War Correspondent in New Orleans, the Journals and Reports of Albert Gaius Hills of the Boston Journal as well as two Maryland church histories.  He has a BS in Natural Resources from Oregon State University. Gary lives in Mount Airy, MD with his wife Emily, and are finally "empty-nesters."
We welcome all to come out and learn about this important Civil War location, the story behind and the current state of the cemetery.  Attendance is free, but membership is encouraged. Please feel free to contact us with any questions or concerns at bsunderland@somdcwrt.org or at 443-975-9142. We look forward to seeing you!