September 12, 2023
The Southern Maryland Civil War Round Table is pleased to announce that its next meeting will be held Tuesday, September 12, 2023 at 7:00pm at The Maryland Veterans Museum, 11000 Crain Highway North, Newburg, MD 20664.
Guest Speaker:  Robert Dunkerly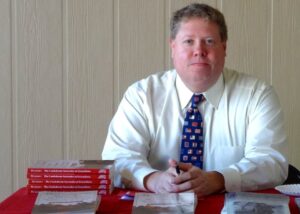 Year 12 begins Tuesday, 9/12/2023 with a lecture from Robert (Bert) Dunkerly about the circumstances surrounding the explosion at Brown's Island in Richmond, VA on March 13, 1863.
The 1863 Brown's Island explosion was the worst industrial accident in the Confederacy, killing 50, mostly teenage girls. Historian Bert Dunkerly will discuss the causes of the accident, and share his research into the identities of the victims and where they are buried. It is an ongoing mystery!
Robert M. (Bert) Dunkerly is a historian, award-winning author, and speaker who is actively involved in historic preservation and research.  He holds a degree in History from St. Vincent College and a Masters in Historic Preservation from Middle Tennessee State University.  He has worked at fourteen historic sites, written over a dozen books, and numerous scholarly articles.  His research includes archaeology, colonial life, military history, and historic commemoration.  He is a past President of the Richmond Civil War Round Table, and serves on the Preservation Commission for the American Revolution Round Table-Richmond.  He has taught courses at Central Virginia Community College, the University of Richmond, and the Virginia Historical Society.  Dunkerly is currently a Park Ranger at Richmond National Battlefield Park.  He has visited over 500 battlefields and over 1000 historic sites worldwide.  He enjoys exploring local bookstores, battlefields, and breweries, not necessarily in that order.
As always, attendance is free, but membership is encouraged. Please feel free to contact us with any questions or concerns at bsunderland@somdcwrt.org.