July 13, 2021
The Southern Maryland Civil War Round Table is pleased to announce that its 2nd Summer Series speaker will take place virtually on Tuesday, July 13, 2021 at 7:00pm from your computer. Due to continuing concerns over the COVID 19 virus and in the interest of member health and safety, we are moving our meeting on line for the immediate future. Members should be checking their email for directions on how to connect to the meeting on July 13, 2021 at 7pm. Not a member! Please reach out to us at bsunderland@somdcwrt.org to learn how to become a member.
Guest Speaker:  Daniel Welch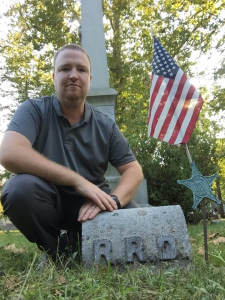 How Did They Get Here: The Gettysburg Campaign— Follow the Union and Confederate armies northward across Virginia, Maryland, and into Pennsylvania during the weeks leading up to the battle of Gettysburg and examine the many battles and events that impacted both before the first shot of July 1, 1863.  Drawn from his book, The Last Road North, Mr. Welch will answer questions about how the armies came to be in the positions they were as the Battle of Gettysburg opened, why Gen. J.E.B. Stuart was "late" and what various units were doing as the made there way north.
Dan Welch is currently a primary and secondary educator with a public school district in northeast Ohio. Previously, he was the Education Programs Coordinator for the Gettysburg Foundation, the non-profit partner of Gettysburg National Military Park. Dan continues to serve as a seasonal Park Ranger at Gettysburg National Military Park. He has received his BA in Instrumental Music Education from Youngstown State University and a MA in Military History with a Civil War Era concentration at American Military University. He has been a contributing member at Emerging Civil War for over six years and is the co-author of The Last Road North: A Guide to the Gettysburg Campaign, 1863. He resides with his wife, Sarah, and three Labrador retrievers in Boardman, Ohio.
Please come out and join us as we add to our knowledge of the Battle of Gettysburg and the events preceding it. Attendance is free, but membership is recommended. Please feel free to contact us with any questions or concerns at bsunderland@somdcwrt.org or at 443-975-9142. We look forward to seeing you!