December 13, 2022
The Southern Maryland Civil War Round Table is pleased to announce that its next meeting will be held Tuesday, December 13, 2022 at 7:00pm at The Maryland Veterans Museum, 11000 Crain Highway North, Newburg, MD 20664.

Guest Speaker:  Tom Belote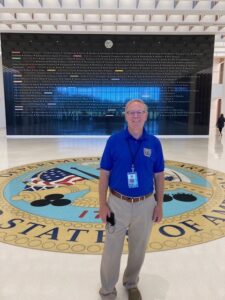 Join us this evening, as we welcome Round table member Tom Belote and his presentation, "Rebels on the Rio Grande:  The Confederate Campaign of New Mexico 1861-1862″.
While the Civil War raged back east, a Confederate campaign to drive the Yankees from the New Mexico Territory, capture the silver and lead mines of Colorado, and the gold mines and strategic ports of California was well underway.  Conceived in the mind of Gen Henry Sibley, this campaign had the aim to extend the Confederacy from the Atlantic Ocean all the way to the Pacific Ocean.   The Confederate advance up the Rio Grande valley achieved some initial successes so that by early 1862, the Stars & Bars were floating over Mesilla, Tucson, Albuquerque, and Santa Fe, and the rebels were on the move to capture the new Territory of Colorado.  However, at Glorieta Pass, the Confederate advance was stymied due to a loss of its logistics train.  The campaign ultimately ended in a humiliating Confederate retreat.   Often called "The Gettysburg of the West," this campaign has been largely relegate to historical obscurity but needs to be told.   The objectives, leadership, intelligence, and logistics of the campaign will be discussed.
Tom Belote is a 30-year veteran of the US Army, retiring as a Colonel.  He is a 1977 ROTC graduate of Virginia Tech with a BS in Agronomy and also holds a MS in International Relations from Campbell University.  He served as an Air Defense Artillery, Foreign Area, Psychological Operations, and Civil Affairs officer in the United States, West Germany, and Cameroon, Africa.  As a Department of Defense  civilian, Tom served as an Intelligence Officer with the Defense Intelligence Agency in Washington, DC and as a Military Liaison Officer with the Joint Warfare Analysis Center in Dahlgren, VA where he supported strategic planning at the US Central Command in Tampa, FL; the European Command in Stuttgart, Germany; and the Indo-Pacific Command in Honolulu, HI.   Tom volunteers at The National Museum of the US Army at Ft Belvoir, VA and at the Thomas Stone National Historic Site in Charles County.  Tom is also a Revolutionary War living history re-enactor.  He and his wife Mary have three children and three grandchildren.
Attendance is free, but membership is encouraged. Please feel free to contact us with any questions or concerns at bsunderland@somdcwrt.org.