February 13, 2018
The Southern Maryland Civil War Round Table is pleased to announce that its next meeting will take place on Tuesday, February 13, 2018 at 7:00pm at the College of Southern Maryland's Center for Business & Industry, Chaney Enterprises Conference Room, BI-113, at 8730 Mitchell Road in La Plata, MD.
Guest Speaker:  David R. Craig
                            
The Southern Maryland Civil War Round table is pleased to welcome back for Hartford County executive David Craig.  For those that enjoyed his October 2014 presentation the the Round Table about Maryland Confederate Brigadier General James Archer, you shall certainly enjoy tonight's presentation on his latest book "Greetings from Gettysburg".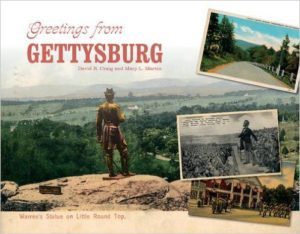 Mr. Craig will discuss with us this evening the Battle of Gettysburg, its creation and change as a National Battlefield Park, how his book could help one tour the Gettysburg National Battlefield or remember a time when they did and the vintage post cards he used in the writing of this book.
David Craig attended Havre de Grace High School and was a History major at Towson State College (BS), and Morgan State University (Master's Degree). Married to Melinda Lee (Blevins) Craig for 45 years. Teacher at Harford County Public School (Middle School) for 15 years and assistant principal for 19 years. Havre de Grace City Councilman five years, Council President one year, Mayor 9 years, State Delegate one term, State Senator one term, Harford County Executive 10 years (2 1/2 terms–longest serving in the county. State Secretary of Planning for Governor Hogan for 1 1/2 years and currently Executive Director of the MD WWICC. Member of the Sons of the Union Veterans of the Civil War (Baltimore) due to my great-grandfather Robert Craig who was in the 2nd Battery, Maryland Light Artillery, USA. Also a soccer coach for 25 seasons. Currently "Pop Pop" of eight grandchildren (father of three).
Please come out and help us welcome back David Craig.  Attendance is free for all, but membership is recommended. For information, contact the Round Table's president, Ben Sunderland, at bsunderland@somdcwrt.org or 443-975-9142.