April 11, 2017
The Southern Maryland Civil War Round Table is pleased to announce that its next meeting will take place on Tuesday, April 11, 2017 at 7:00pm at the College of Southern Maryland's Center for Business and Industry, Chaney Enterprises Conference Center, Room BI-113, at 8730 Mitchell Road in La Plata, MD.
Guest Speaker:  Wayne Wei-siang Hsieh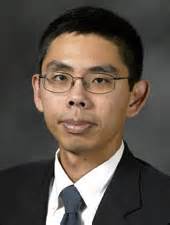 The Civil War represented a momentous change in the character of war. It combined the projection of military might across a continent on a scale never before seen with an unprecedented mass mobilization of peoples. Yet despite the revolutionizing aspects of the Civil War, its leaders faced the same uncertainties and vagaries of chance that have vexed combatants since the days of Thucydides and the Peloponnesian War. A Savage War sheds critical new light on this defining chapter in military history.
In a masterful narrative that propels readers from the first shots fired at Fort Sumter to the surrender of Robert E. Lee's army at Appomattox, Williamson Murray and Wayne Wei-siang Hsieh bring every aspect of the battlefield vividly to life. They show how this new way of waging war was made possible by the powerful historical forces unleashed by the Industrial Revolution and the French Revolution, yet how the war was far from being simply a story of the triumph of superior machines. Despite the Union's material superiority, a Union victory remained in doubt for most of the war. Murray and Hsieh paint indelible portraits of Abraham Lincoln, Ulysses S. Grant, William Tecumseh Sherman, and other major figures whose leadership, judgment, and personal character played such decisive roles in the fate of a nation. They also examine how the Army of the Potomac, the Army of Northern Virginia, and the other major armies developed entirely different cultures that influenced the war's outcome.
A military history of breathtaking sweep and scope, A Savage War reveals how the Civil War ushered in the age of modern warfare.
Williamson Murray is professor emeritus of history at Ohio State University. His many books include The Iran-Iraq War. Wayne Wei-siang Hsieh is associate professor of history at the United States Naval Academy. He is the author of West Pointers and the Civil War. They both live in Fairfax, Virginia.
"[An] outstanding account of the American Civil War. . . . This expertly written narrative will draw in anyone with an interest in the Civil War at any knowledge level."—Library Journal, starred review
"A genuinely fresh, persuasive perspective on the Civil War. . . . [A Savage War] will make even readers with a strong knowledge of the war think about how it was fought and why it ended as it did. A winner for Civil War history buffs."—Kirkus, starred review
"[A] very important new history of the American Civil War by two important historians."–Newt Gingrich
"[A] new and interesting military history of the American Civil War."–Francis P. Sempa, New York Journal of Books
"The best, clearest, and most instructive military history of the Civil War I have ever read. . . . [A Savage War] hit a home run."–Tyler Cowen, Marginal Revolution
Endorsements:
"If you think that there is nothing new to write about the Civil War, this book will prove you wrong."–H. R. McMaster, author of Dereliction of Duty: Lyndon Johnson, Robert McNamara, the Joint Chiefs of Staff, and the Lies That Led to Vietnam
"More than just another narrative of the Civil War, this thoughtful and often provocative book is an engaging analysis of the leadership, personalities, and strategies of both sides during America's great nineteenth-century trauma."–Craig L. Symonds, author of Lincoln and His Admirals
"A Savage War is not just a riveting military narrative of the American Civil War written by two military historians with singular pragmatic experience, but a rare and much needed strategic assessment of the aims and methods of the Union and the Confederacy–highlighted with incisive, blunt–and persuasive– appraisals of all the major generals and supreme commanders."–Victor Davis Hanson, author of Carnage and Culture and The Savior Generals