February 9, 2016
The Southern Maryland Civil War Round Table is pleased to announce that its next meeting will take place on Tuesday, February 9, 2016 at 7:00pm at the College of Southern Maryland's Center for Business and Industry, Chaney Enterprises Conference Center, Room BI-113, at 8730 Mitchell Road in La Plata, MD.
Guest Speaker:  Dr. Bradley Gottfried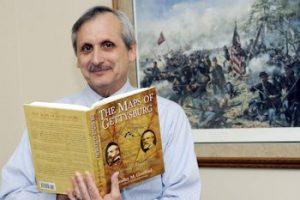 Join us as we keep it "in the family" this evening!  Round Table President Dr. Brad Gottfried will address us, not only as our President, but also about his latest book, "The Battle of the Wilderness: Disaster in the Thickets".
Because of the thick vegetation that enveloped the armies during the battle of the Wilderness, the May 5 & 6, 1864 fight has been considered one of the most misunderstood and confusing battles of the entire Civil War. Brad Gottfried has spent considerable time studying the battle and walking the battlefield in preparation for his new book, The Maps of the Wilderness. Using many of his full-color maps, Gottfried will explain why the battle occurred here, how it played out, and its persisting legacy. Copies of his new book may be available for sale.
The Southern Maryland Civil War Round Table invites all to attend this lecture on one of men who saw much of the Civil War from the right hand of the Confederacy's leading general.  Attendance is free for all, but membership is recommended.  For information, contact the Round Table's president, Brad Gottfried, at bgottfried@csmd.edu or 301-934-7625.