March 14, 2017
Come out and join us for the second season of Civil War films from 4:25pm – 6:45pm, prior to the regularly scheduled Round table meeting tonight.  Movies will be shown at the College of Southern Maryland's Center for Business and Industry, Chaney Enterprises Conference Center, Room BI-113, at 8730 Mitchell Road in La Plata, MD.  Admission is free!
Tonight's Feature:  "Free State of Jones"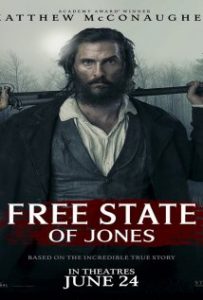 Newton Knight, played by Matthew McConaughey, is a disillusioned Confederate army deserter who returns to Mississippi to lead a militia of fellow deserters, runaway slaves, and women in an uprising against the corrupt local Confederate government. "The movie tells of a counter-rebellion in a Mississippi town during the Civil War, and is based on a true story. The film is done in a style that emulates "Twelve Years a Slave", and … deals with topics of slavery and secession in a way that is poignant but also constructive" (Casey Nicholson). The "free state" that Knight formed within the state of Mississippi operates under the credo that no man shall be owned, and poor men should not be losing their lives so the rich can get richer. It's a truly powerful film about freedom and an earnest man who believes in equality–even on a subconscious level" (IMDb).