February 12, 2019
The Southern Maryland Civil War Round Table is pleased to announce that its next meeting will take place on Tuesday, February 12, 2019 at 7:00pm at the College of Southern Maryland's Learning Resource Center, Room LR-102, at 8730 Mitchell Road in La Plata, MD.
Guest Speaker:  Mr. Gary Dyson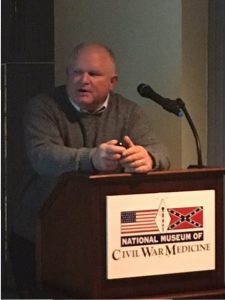 Having joined us last year to discuss with us his book, "The Ambush of the Isaac P. Smith, Family Ties and the Battle on the Stono, January 30, 1863″, Mr. Gary Dyson returns to the Southern Maryland Civil War Round Table, to present, "A Civil War Correspondent in New Orleans".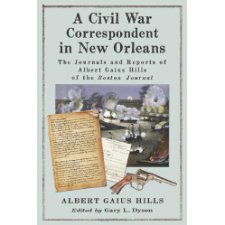 "A Civil War Correspondent in New Orleans" explores the eyewitness account of Boston Journal War Correspondent Albert Gaius Hills from the day he left Boston Harbor in November 1861 through the New Orleans Campaign of 1862. Hills recorded his observations while with the Union fleet in the Gulf of Mexico and on Ship Island as well as his account of the bombardments of Forts Jackson and St. Philip and impression of captured New Orleans.  Hills' life and his relationships with other correspondents are also part of the presentation.
Gary L. Dyson is a retired Environmental Specialist from the city of Gaithersburg, MD and a former Marine. He is a lifelong history enthusiast and has spent countless hours reading, researching and exploring battlefields – from the French and Indian War to World War II. Gary owns Dyson Genealogy and Historical Research and is the author of "Ambush of the Isaac P. Smith" and "A Civil War Correspondent in New Orleans, the Journals and Reports of Albert Gaius Hills of the Boston Journal." He has a BS in Natural Resources Management from Oregon State University. Gary lives in Mount Airy, MD with his wife Emily and has two children away at college. He is also a board member for the Frederick County Civil War Round Table. We invite everyone to join us and Mr. Dyson, as we learn about how one member of the press covered the Civil War.
Attendance is free for all, but membership is recommended. For information, contact the Round Table's president, Ben Sunderland, at bsunderland@somdcwrt.org or 443-975-9142.